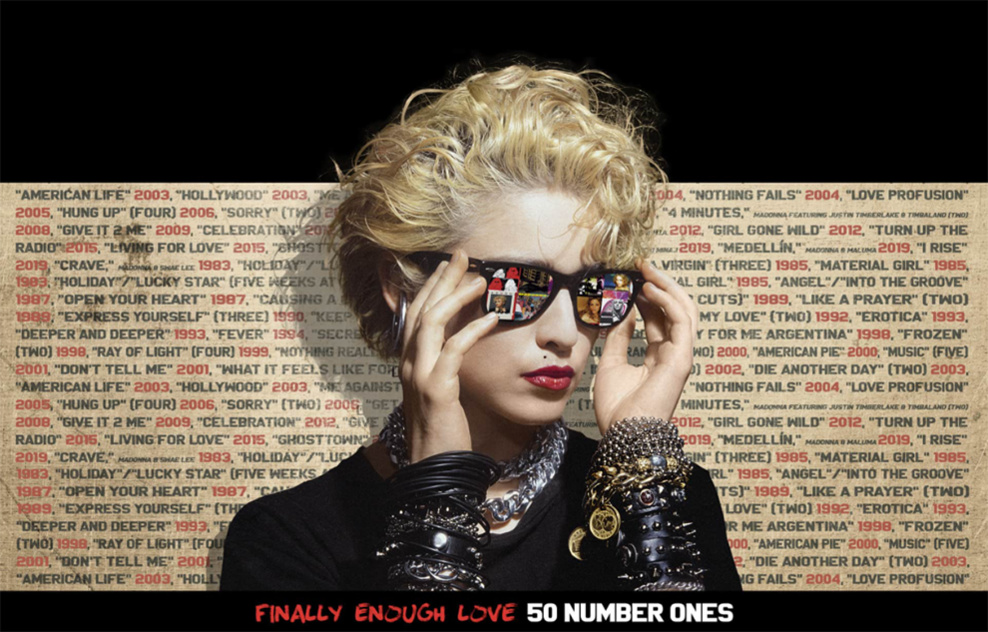 Finally Enough Love est le premier d'une longue série de sorties d'albums dans le cadre du partenariat récemment annoncé entre Madonna et Warner Music Group.
La collection sera disponible en numériqueme le 19 août, avec une version 3 CD (29,98 $). Une version en édition limitée de 6 LP sur vinyle rouge et noir (149,98 $) sera également disponible, exclusivement dans la boutique officielle de Madonna et sur Rhino.com.
Pré-commandez maintenant.
votre version sur Cd ou vinyle
Il y aura également une version sur clear vinyle éditée par la Fnac,
pré-commandez ici
La version 16 pistes, FINALLY ENOUGH LOVE, sera disponible en streaming le 24 juin, avec les versions 1 CD (14,98 $) et 180 grammes 2-LP (34,98 $) à venir le 19 août. . 1er single sorti aujourd'hui le « You Can Dance Remix Edit » de « Into The Groove »
De "Holiday" de 1983 à "I Don't Search I Find" de 2019. avec des remixes de certains des DJ les plus grands et les plus influents de tous les temps, notamment Shep Pettibone, William Orbit, Honey Dijon et Avicii. Sur plusieurs chansons, Madonna est rejointe par d'autres artistes incroyables, dont Britney Spears ("Me Against The Music"); Justin Timberlake et Timbaland ("4 Minutes"); et Nicki Minaj ("Bitch I'm Madonna".) Chaque remix a été remasterisé pour la collection par Mike Dean, qui a produit les deux derniers albums studio de Madonna, Rebel Heart (2015) et Madame X (2019).
La collection rend également hommage à "Everybody", le premier single de Madonna, qui célèbre son 40e anniversaire le 6 octobre. Madonna a repensé la chronologie de l'album en choisissant trois éditions de You Can Dance, dont "Into The Groove", "Everybody" et "Physical Attraction". », qui reflète les vibrations des clubs underground qui ont inspiré ses premiers enregistrements en tant qu'artiste. En plus de ces raretés, ces albums présentent également des versions qui voient leur toute première sortie officielle, y compris le "Alternate Single Remix" de "Keep It Together", le "Offer Nissim Promo Mix" de "Living For Love", et plus encore.
Attendez-vous à ce que d'autres surprises soient révélées plus tard cette année autour de la célébration des 40 ans de musique de Madonna.
Tracklist
"Holiday" (7" Version)
"Like A Virgin" (7" Version)
"Material Girl" (7" Version)
"Into The Groove" (You Can Dance Remix Edit)
"Open Your Heart" (Video Version)
"Physical Attraction" (You Can Dance Remix Edit)
"Everybody" (You Can Dance Remix Edit)
"Like A Prayer" (Remix/Edit)
"Express Yourself" (Remix/Edit)
"Keep It Together" (Alternate Single Remix)
"Vogue" (Single Version)
"Justify My Love" (Orbit Edit)
"Erotica" (Underground Club Mix)
"Deeper And Deeper" (David's Radio Edit)
"Fever" (Radio Edit)
"Secret" (Junior's Luscious Single Mix)
"Bedtime Story" (Junior's Single Mix)
"Don't Cry For Me Argentina" (Miami Mix Edit)
"Frozen" (Extended Club Mix Edit)
"Ray Of Light" (Sasha Ultra Violet Mix Edit)
"Nothing Really Matters" (Club 69 Radio Mix)
"Beautiful Stranger" (Calderone Radio Mix)
"American Pie" (Richard 'Humpty' Vission Radio Mix)
"Music" (Deep Dish Dot Com Radio Edit)
"Don't Tell Me" (Thunderpuss Video Remix)
"What It Feels Like For A Girl" (Above And Beyond Club Radio Edit)
"Impressive Instant" (Peter Rauhofer's Universal Radio Mixshow Mix)
"Die Another Day" (Deepsky Radio Edit)
"American Life" (Felix Da Housecat's Devin Dazzle Edit)
"Hollywood" (Calderone & Quayle Edit)
"Me Against The Music" (Peter Rauhofer Radio Mix) – Britney Spears feat. Madonna
"Nothing Fails" (Tracy Young's Underground Radio Edit)
"Love Profusion" (Ralph Rosario House Vocal Edit)
"Hung Up" (SDP Extended Vocal Edit)
"Sorry" (PSB Maxi Mix Edit)
"Get Together" (Jacques Lu Cont Vocal Edit)
"Jump" (Axwell Remix Edit)
"4 Minutes" (Bob Sinclar Space Funk Edit) – feat. Justin Timberlake & Timbaland
"Give It 2 Me" (Eddie Amador Club 5 Edit)
"Celebration" (Benny Benassi Remix Edit)
"Give Me All Your Luvin'" (Party Rock Remix) – feat. LMFAO & Nicki Minaj
"Girl Gone Wild" (Avicii's UMF Mix)
"Turn Up The Radio" (Offer Nissim Remix Edit)
"Living For Love" (Offer Nissim Promo Mix)
"Ghosttown" (Dirty Pop Intro Remix)
"Bitch I'm Madonna" (Sander Kleinenberg Video Edit) – Nicki Minaj
"Medellín" (Offer Nissim Madame X In The Sphinx Mix) – Madonna and Maluma
"I Rise" (Tracy Young's Pride Intro Radio Remix)
"Crave" (Tracy Young Dangerous Remix) - feat. Swae Lee
"I Don't Search I Find" (Honey Dijon Radio Mix)