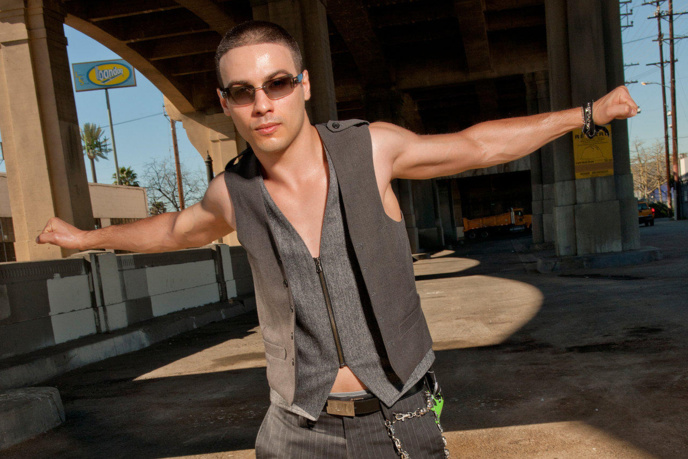 To read this interview in english, click here

Nous savons que vous êtes né en Arménie et avez déménagé aux États-Unis à l'âge de 7 ans. Vous avez commencé une « American Life » et vécu le rêve américain ... Travailler dur est surement la clé du succès. Les rêves le sont aussi. Quels sont vos rêves? Est-ce que votre vie ressemble à celle que vous espériez? Qu'allez-vous faire pour accomplir les prochains?
Mon rêve d'enfant était de devenir un artiste. Je dansais à 7 ans et je suis devenu danseur professionnel à l'âge de 13 ans. Mon rêve est devenu réalité quand j'ai fait ma première publicité pour Mervyn à 15 ans.

Je crois au travail bien fait. Alors, comme je continue de travailler fort et que je crois en moi, il y aura toujours quelque chose d'intéressant à venir; c'est juste une question de temps.
Qu'est-ce qui vous a inspiré à danser étant jeune? Michael Jackson? Vos parents? Madonna? Dansiez-vous secrètement?
Michael Jackson a été une grande source d'inspiration pour moi. Je me souviens de tous ses vidéoclips et de mes imitations de danse. Mes parents ont joué un rôle primordial aussi. Mon père était danseur et chorégraphe. Il a joué un rôle considérable dans ma réussite. Mon père est responsable de l'ensemble de mon succès. C'est la même chose pour ma mère. Je plaisante toujours et l'appelle mon agent. Elle aime partager les nouvelles de moi à tous ceux qu'elle rencontre et montrer des photos.
Nous savons à partir d'entretiens précédents que vous aimez vraiment les chansons Like a Prayer et Music. Ces chansons vous font danser. Parmi les albums les plus récents de Madonna (MDNA + Hard Candy) y a-t-il une chanson (ou deux) sur lesquelles vous souhaiteriez danser un jour?
J'ai vraiment apprécié la collaboration de Madonna avec Justin Timberlake sur "4 minutes" et la chanson avec Pharrell "Give it to me"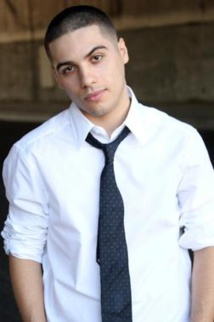 Nous savons que les répétitions avec Madonna sont ardues. La pression est grande et tout doit être livré à temps. Comme vous avez fait 2 tournées avec elle, étaient-elles semblables au niveau des préparatifs ou complètement différentes?
Les deux tournées étaient à peu près identiques en ce qui concerne la préparation. Nous avions sensiblement la même équipe. Il y avait toutefois quelques nouveaux danseurs qui se sont ajoutés aux anciens.
Vous saviez comment Madonna travaillait (depuis la tournée Confessions). Est-ce que ça a changé votre perception sur le travail à livrer (et comment)? Était-ce plus facile pour la deuxième tournée?
J'ai passé un bon moment et je ne me souviens pas de la difficulté engendrée. Lorsque vous faites ce que vous aimez et que vous le faites avec les meilleurs dans I' industrie, il n'y a pas mieux.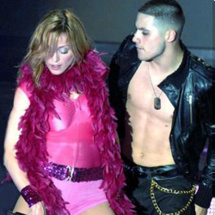 En une phrase, qu'est-ce que la tournée Re-Invention signifie pour vous; et le Confessions Tour?
Re-Invention Tour était un rêve accompli. Confessions tour – c'était amusant et une expérience très enrichissante.
Avez-vous rencontré Madonna depuis la fin de la tournée Confessions?
Oui, je l'ai rencontrée à nombreuses reprises. Nous sommes devenus de grands amis en tournée. Même si je ne danse plus pour elle nous clavardons souvent. J'ai d'ailleurs parlé avec elle il y a une semaine et je lui ai montré le nouveau clip que j'ai réalisé. J'apprécie beaucoup son opinion et j'aime partager mes projets avec elle.
Êtes-vous toujours en lien avec d'autres danseurs de Madonna? Est-ce que l'esprit de famille demeure en quelque sorte entre vous et certains d'entre eux?
C'est difficile de rester proches car tout le monde est avide de projets et veut son prochain gros coup. Dans ce métier, les gens sont toujours en voyage et se déplacent constamment. Cependant, chaque fois que vous rencontrez quelqu'un d'une tournée précédente, c'est comme si on ne s'était jamais quitté. C'est comme la famille. Les expériences et le temps que nous avons partagés ensemble sont inoubliables.
Nous ne pouvons pas passer sous silence le projet « Summer 2012 in LA Superstar Dance Intensive » que vous avez réalisé. Nous avons vraiment apprécié la fluidité, les couleurs chaudes, le rythme et le style du projet (félicitations à ce sujet). Vous semblez avoir un vrai talent pour la réalisation. Qu'est-ce qui vous a poussé vers cette forme d'expression? Avez-vous déjà pensé présenter un "storyboard" à Madonna pour l'un de ses projets?
Je voulais me remettre en question et faire un pas vers la réalisation. Je viens de terminer un nouveau vidéoclip où j'ai dirigé et chorégraphié une jeune et très talentueuse artiste nommée LuARA. Diriger un projet de Madonna serait incroyable. Tout saura se passer au bon moment, si c'est ma voie. N'est-ce pas comment ça fonctionne toujours?
Comment gérez-vous l'exposition phénoménale que vos collaborations avec d'autres artistes vous ont apportée (Madonna, Britney Spears, Kylie, Pink, Selena Gomez, Lil Kim, Rihanna et Ricky Martin)?? Ils ont de grands noms ... Vous avez travaillé avec de grandes princesses pop et la Reine elle-même. Cela vous place directement au Royaume des Danseurs. Comment chacun de ces artistes vous a aidé à évoluer en tant que personne? En quelques mots, pouvez-vous décrire leurs meilleures qualités?
J'ai toujours été le centre d'attention étant gamin, alors j'ai l'habitude de regards des autres. Je ne dirais pas que ces personnes m'ont aidé à grandir en tant qu'individu, à proprement parler. C'est plus les expériences que j'ai eues avec elles qui m'ont influencé. Je n'ai pas passé beaucoup de temps avec certains de ces artistes, alors il serait difficile pour moi de souligner leurs meilleures qualités. Je vais toutefois en prendre quelques-uns; Madonna est un bourreau de travail et c'est pourquoi elle a grimpé au sommet. Ricky Martin est une âme charitable. Selena Gomez est une artiste très déterminée et ambitieuse.
Vous avez sorti United Streets of ARMerica en 2009. L'album donne une ambiance unique au style « urbain ». Madonna était-elle votre mentor pour ce projet? Vous a-t-elle donné des conseils?
J'aime créer de la musique et c'est pourquoi j'ai fait l'album. Je n'ai jamais vraiment discuté et élaboré ce projet avec Madonna.
Y a-t-il d'autres incursions dans en musique bientôt?
Pour le moment je m'occupe de LuARA. Nous venons tout juste de sortir son premier single "Fire in Me". Plus d'infos sur

www.luaramelody.com
Nous savons que la musique vous aide dans votre vie. Vous écoutez quoi en ce moment?
J'écoute de tout. J'aime les différents genres de musique.
Vous travaillez maintenant comme instructeur de Hip Hop au Matador Dance Studio (Glendale, Californie) + Millennium Dance Complex (North Hollywood, Californie). Est-ce que ça vous laisse du temps supplémentaire pour travailler sur des projets d'extra? Quels sont vos projets actuels et futurs (autres)?
J'aime travailler dur et créer des projets. J'ai toujours utilisé mes temps libres adéquatement et rempli mon les disponibilités avec plus de travail. Le travail m'apporte beaucoup de joie.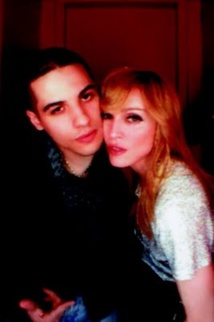 Avez-vous quelque chose de spécial et spécifique que vous aimeriez partager avec nos lecteurs, à «confier»?
J'ai commencé 2013 en force. Les lecteurs peuvent s'attendre à de nouveaux projets, défis et vidéos musicales que je vais diriger et chorégraphier. C'est la direction vers laquelle je vais à ce point dans ma vie.
Si nous avions une ligne directe vers l'oreille de Madonna, que lui chuchoteriez-vous?
Tu m'as manqué.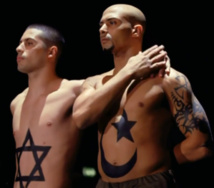 Nous sommes sur le point de nous entretenir avec Jason Young. Y a-t-il quelque chose que vous aimeriez lui dire grâce à nous?
J'entends de bien belles choses concernant ta carrière de chorégraphe et j'ai réellement hâte de travailler à nouveau sur un autre projet avec toi.
Nous tenons à remercier sincèrement Mihran Kirakosian pour son temps et sa générosité.
En savoir plus sur Mihran Kirakosian
In English
We

know him through his many collaborations with Madonna, by his sense of rhythm and his unparalleled sexiness. What do we need to know more about him? Mihran Kirakosian gives us the honor to answer our questions; our pleasure ... ;-)
We know that you were born in Armenia and moved in the USA at age 7. You started an American life there and lived the American dream… Hard working is surely the key to success. Dreams are too. What were your dreams? Did your life tend to go as dreamed? What are you going to do to fulfill your next ones?
My dream, since I was a young child, was to become a performer. Even though I have been dancing since I was 7 years old, I decided to become a professional dancer at the age of 13. My dream started to come true when I booked my first commercial for Mervyn's at the age of 15. I

believe in hard work. So as I continue to work I believe that there is something great waiting for me and it's just a matter of time.
How were you inspired to dance at your young age? Michael Jackson? Your parents? Madonna? Were you dancing steps secretly?
Michael Jackson was a big inspiration in my life. I remember watching all of his videos and imitating his dance moves. My parents played a part as well. My dad, who once was a dancer and a choreographer himself, played a huge role in my success. My father is responsible for all of my success. The same goes for my mother. I always joke and call her my publicist. She loves to tell everyone she meets about me followed up with photos J.
We know from past interviews that's you really enjoy the Like a Prayer and Music songs. These songs make you dance. Among Madonna's most previous work (MDNA + Hard Candy albums) is there one song (or two) that you'd like to dance on live one day?
I really enjoyed Madonna's collaboration with Justin Timberlake on "4 minutes". Also her song with Pharrell "Give it to me"
We know that rehearsals with Madonna are tough. Pressure is high and everything needs to be delivered on time. Since you have made 2 tours with her, were they alike in preparations or completely different?
Both tours were pretty much the same as far as preparation. We pretty much had the same crew and band. Some of the previous dancers combines with the new ones.
You then knew how Madonna worked (while working on the Confessions tour). Was your perception changed on working her (and how)? Was it easier on the second tour?
I had a great time so I don't remember it being hard at all. When you are doing what you love and you are doing it with the best people in the business it doesn't get better than that.
In one sentence, what would be the Re-Invention Tour for you? And the Confessions Tour?
Re-invention tour was a dream come to light for me. Confessions tour - was fun and a great learning experience.
Have you met with Madonna since the end of the Confessions Tour? Do you mind share how/why?
Yes, I've met with her many times. We became great friends on tour. Even though I no longer dance for her we still chat often. I just spoke to her about a week ago showing her my new music video that I directed. I value her opinion a lot and love sharing my projects with her.
We know that a family vibe comes down on all Madonna's crew while touring. Could you share one or two great memories you had with your fellow dancers / backup singer (something goofy or story worth telling)?
Well, one funny moment comes to mind. We pulled up by our hotel in Ireland and all the photographers where waiting for Madonna to arrive, even though she was not staying there. So Stephanie Ross, assistant choreographer, posed as Madonna with a hat coming off of the tour buss and the photographer went wild. They were jumping on top of one another to get a photo. It was hilarious. Both tours were filled with laughter and practical jokes.
Are you still close to other Madonna dancers? Is the family spirit still alive somehow/somewhere between you and some of them?
It's hard to stay close because everyone is on the run for the next big job. In this business people are always traveling and constantly moving around. However, whenever you run into someone from tour it's like they never left. You become like family. The experiences and the times we all shared are unforgettable.
We cannot pass under silence the 2012 Summer in LA Superstar Dance Intensive project that you've directed. We really appreciated its fluidity, warm colouring, rhythm and style (congrats on that). You seem to have a real talent for directing. What lead you there? Did you ever thought about "storyboarding" a Madonna project.
I wanted to challenge myself, and step into directing more. I just finished a new music video I directed and choreographed for a young and very talented artist name LuARA. Directing a Madonna project will be amazing. Everything will happen at the right time isn't that how it always works?
How could you deal with the supernova kind-a-like exposure coming from your collaborations with Madonna, Britney Spears, Kylie, Pink, Selena Gomez, Lil Kim, Rihanna and Ricky Martin? Those are big names… You worked with major pop princesses and the Queen. That puts you in the kingdom of dancers. How did each one of these artists help you grow as a person? In few words, could you describe each one with their best qualities?
I've always been the center of attention as a young kid so I was kind of used to do the supernova kind-a-like exposure. I wouldn't say that these people helped me grow as a person as much as the experiences I had with each one. I didn't spend a lot of time with some of these artists so it would be difficult for me to point out their best qualities. I'll pick a few. Madonna is a workaholic and that's why she has climbed to the top. Ricky Martin is a kind soul. Selena Gomez is a very determined and ambitious artist.
You released United Streets of ARMerica in 2009. The album gives its unique vibe to Urban style. Was Madonna your mentor for it? Did she give you advices?
I enjoy creating music and that's why I did the album. I never really shared much of this project with Madonna.
Is there any other incursion into music soon?
At the moment I'm managing a young talented artist name LuARA. We just released her first single "Fire in Me" I directed and choreographed the music video for the single.
We know music helps you through your living. What are you listening at the moment?
I listen to everything. I love different genres of music.
You now work as a Hip Hop Instructor at Matador Dance Studio (Glendale, California) + Millennium Dance Complex (North Hollywood, California). Does it let you extra time to work on sideline projects? What are your current other projects (and future)?
I love working hard and creating projects. I always utilize my extra time carefully and fill in the time with more work. My work brings me much joy.
Do you have something special and specific you'd like to share with our readers, to « confess »?
I've started real strong in 2013. The readers can most defiantly wait for upcoming music videos that I will be directing and choreographing. That's the direction I'm going towards at this point in my life.
Let's say we'd have a direct line to Madonna's ear, what would you whisper to her?
I missed you.
We are about to interview Jason Young soon, is there anything you'd like to share/say to him through us ?
I hear all the great things his doing with his choreography career and I can't wait to work on another project with him soon.
We sincerely thank Mihran Kirakosian for his time and generosity. News-of-Madonna