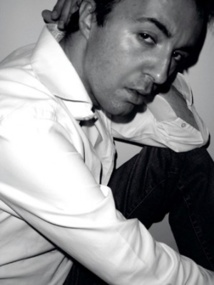 What's M represents to you and do you follow her career ?
"M IS MY BEGINNING...THE BEGINNING OF MY LIFE...MY FIRST LOVE...AND THE LAST.I FOLLOW M SINCE FROM 1983...BEFORE ALSO...SINCE SHE PLAYS WITH OTTO AND THE BAND."
"M c'est mon début, le début de ma vie, mon premier amour, et le dernier. Je la suis depuis 1983, avant, depuis ses débuts avec Otto and the Band".
What is your view on Madonna and fashion since her beginning ?
"SHE WAS SHE IS AND SHE WILL BE THE QUEEN OF THE COSTUME.SHE WAS MY DIVINE INSPIRATION FROM THE FIRST SECOND."
"Elle était, elle est et elle sera la reine des costumes. Elle était mon inspiration divine depuis la première seconde".
What do you think of the relationship between Madonna and Italian designers like you,
Versace an D&G for example ?
"WELL SHE KNOWS WHAT SHE WANTS ALL THE TIME.SHE HAS AN INTELLIGENT BRAIN AND I M SO PROUD TO BE CHOOSED MORE THAN ONCE FROM HER."
"Elle sait tout le temps ce qu'elle veut,. Elle est très intelligente et je suis très fier d'avoir été choisi à plusieurs reprises par elle".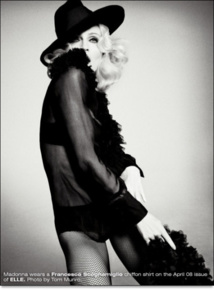 Madonna wore an outfit made by yourself at Oscar Party this year, How it's happened, did you meet her ?
"WELL THE OSCAR PARTY WAS ONLY THE LAST ONE CAUSE I DRESSED M ALSO BEFORE.THE WORLD TOUR BANNER OF THE STICKY AND SWEET GIVE ME THE POSSIBILITY TO BE KNOWN TO ALL THE WORLD CAUSE M WEARS MY SILK BLACK BLUSE THE SAME ONE OF THE GIVE IT 2 ME VIDEO AND THE ELLE MAGAZINE.M THROUGH HER STYLIST,MY SWEET FRIEND ARIANNE PHILLIPS,SHE CHOOSE IT AND...WAS HAPPEN.
FOR SURE...

" L'after Party des oscars était la dernière fois que je l'habillais, en effet j'ai déjà habillée M. Pour l'affiche promotionnelle du Sticky and Sweet tour. Celà m'a donné la possibilité d'être connu de tous parce que M portait ma blouse de soie noire, la même que dans le clip " Give it to me " ou le shoot pour ELLE magazine. M à travers sa styliste, ma chère amie Arianne, elle a choisit cette pièce et c'est arrivé."
THE FIRST TIME I MET M WAS IN NY 2 YEARS AGO...WE DANCE ALL THE NIGHT TOGETHER WITH A LOT OF FRIENDS AND SHE WAS SO SWEET WITH ME.LAST TIME WAS...3 MOUTHS AGO IN NY TOO...AT THE KABBALAH PURIM PARTY. AND WAS AMAZING HOW SHE RECOGNIZES ME CALLING...CIAO FRANCESCO...OMG I WAS SHOKKED...AND I M STILL.SHE MAKES ME FEEL AS A STAR BUT...MY FEET ON THE FLOOR.I M SO SIMPLE PERSON...BUT BE CALLED BY M WITH UR NAME..IS THE DREAM FOR EVERYONE."

"La première fois que je l'ai rencontré c'était il y a 2 ans à NewYork, on a dansé ensemble toute la nuit avec pleins d'amis et elle a été adorable avec moi. La dernière fois, c'était il y a 3 mois à New York aussi lors de la fête du purim au centre de la Kabbale et c'était merveilleux. Elle m'a reconnu et m'a interpellé " CIAO FRANCESCO" *OMG* j'étais choqué, elle m'a fait me sentir comme une star mais avec les pieds sur terre. Je suis une personne simple, mais entendre M prononcer votre prénom, c'est le rêve de tous."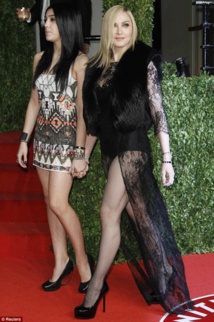 Will you work again with her ?
"FOR SURE...I HOPE VERY SOON."

"Certainement, j'espère rapidement".
Can you tell us about your work, your style and your arrival in the world of fashion ?
"MY WORK IS LIKE...AN ADVENTURE...AN EXPERIENCE SINCE THE BEGINNING.I STARTED MANY YEARS AGO...I WAS ONLY 19 WHEN I HAD MY FIRST EXPERIENCE IN NEAPLES WITH DONATELLA VERSACE AND IN 1997 I OPENED MY FIRST ATELIER IN POMPEI ,MY HOME TOWN...AND TODAY....IM HERE :)"

"Mon travail c'est comme une aventure, une expérience, depuis le début. J'ai commencé il y a maintenant plusieurs années, j'avais seulement 19 ans quand j'ai eu ma première expérience à Naples avec Donatella Versace et en 1997 j'ai ouvert mon premier atelier à Pompéi, ma ville natale et aujourd'hui je suis là".
A word about the French fashion ?
"TRES CHIC :)))".

-----------------------------------------------------------------------------------------------------------------
Un grand MERCI à Francesco ainsi qu'à son attachée de presse Mara, pour s'être
tenue à notre disposition tout au long de l'élaboration de cette interview.
En savoir plus sur Francesco Scognamiglio
MERCI DE MENTIONNER NEWS-OF-MADONNA
POUR TOUTE REPRISE DE CETTE INTERVIEW

THANK YOU FOR MENTIONING NEWS-OF-MADONNA
FOR ANY RESUMPTION OF THIS INTERVIEW